Paul Taylor Modern Dance Company… this pose in "Promethean Fire", which I believe is Paul Taylor's reaction/interpretation of Sept 9/11. Wonderfully moving, with the demise of the entire cast in a heap of bodies with reaching hands, which then resurrect into rising hope. This pose was the final pose – with open arms, symbolizing hope and optimism for the future.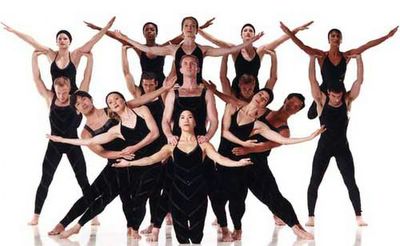 Previously, I saw the SF Ballet perform another Paul Taylor work, called Company B. Set to the music of the Andrews sisters, in WWII era costuming, it was very upbeat and happy music. However, in the dancing, Paul Taylor put in the angst of wartime and the "chill of bereavement". For instance, in this one dance (still set to the upbeat voices of the Andrews sisters), this couple dances a wistful waltz without touching, just facing each other. Each time they repeat the dance, the distance between them growing further apart. And in the last few moments of the dance, the girl all of a sudden crouches in anguish… and the guy joins a line of men walking in the background, most likely symbolizing the lives lost in war. For some reason, the juxtaposition of such innocence in the music and the heavy subject matter made it more poignant and moving.
Eventide was another piece that was emotionally moving – in an interview, Paul Taylor said he believed all relationships to be doomed and never stay together, and Eventide reflects this. In the end, in the swirling dancing of individuals and couples melding together, you end up yearning, hoping, that these couples will stay together. It ends with the couples walking away from each other, arms reaching. Very sad.
I highly recommend you see Paul Taylor if you get the chance, and try to sneak into the third row like I did.